Curio cabinets are designed to showcase collectibles, gifts, treasures, and more. These cabinets add elegance to any room, whether you are looking for them in your bedroom, living room, or bathroom! If you're considering buying one of these beautiful cabinets to display some of your prized possessions, keep reading to enhance your presentation of prized possessions with the best curio cabinets on the Good & Gracious website!
1) Short Display Curio Cabinet with Adjustable Shelf and Industrial Style Door Handle:
While this curio cabinet offers less storage it has a more traditional look and feels. The Short Display Curio Cabinet is a short display cabinet designed to hold 4 or 6 collectibles or relics and comes with an adjustable shelf and latch door handles for an old-fashioned feel. If you have smaller items (such as figurines) that need a place to call home, then it's worth considering. This beautiful piece of furniture comes in both white and grey.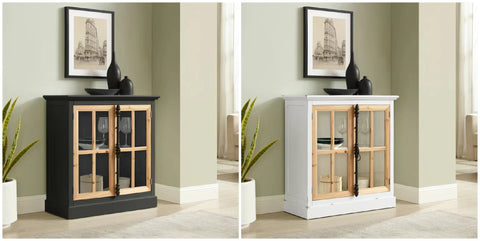 2) Tall Display Curio Cabinet with Adjustable Shelf and Industrial Style Door Handle:
The Tall Display Curio Cabinet is designed for people who want to display their antiques and collectibles in style. The adjustable shelf is for showcasing different-sized items, from art pieces to family heirlooms. The tall design adds a more elegant touch than other styles of curios, and it's easy to assemble. It has the same old-fashioned feel as the shorter version but can hold more precious pieces. This beautiful piece comes in both white and black and will surely fit your home decor! This curio cabinet won't take up much space but will still be able to showcase all your favorite collectibles!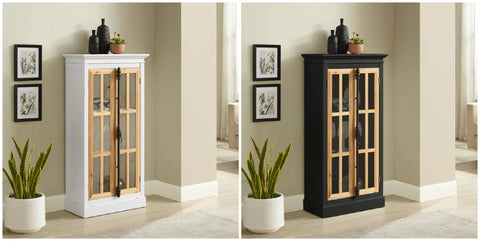 3 ) Storage Cabinet with Tempered Glass Door, Storage Drawer, and Adjustable Shelves
If you're looking for a modern storage cabinet with elegance, then the Storage Cabinet with Tempered Glass Door is perfect for you. This storage cabinet boasts many features that are sure to meet your needs. This storage cabinet comes complete with a tempered glass door, a storage drawer, and adjustable shelves so you can store items of any size or shape in its convenient drawers. Plus, its neutral coloring and clean design are certain to match your home decor beautifully! Enjoy this beauty in white, black, and walnut.

4) Display Cabinet with Tempered Glass Doors, Triple Drawers, and Adjustable Shelves
Display your collectibles, art pieces, and prized possessions in style with modern window panes. This Display Cabinet with Tempered Glass and Triple Drawers allows you to display items while giving you storage for other items. The triple drawers provide ample space for small knick-knacks, and two shelves accommodate larger items. Double pane glass doors reveal your collection in all its glory.

5) Lighted Corner Curio Cabinet with Adjustable Shelves and Mirrored Back Panel
An elegant storage cabinet with clean lines and modern appeal features a glass front door with an adjustable shelf on each side of a mirrored back panel. This Corner Curio Cabinet snuggly fits in your favorite corner for the ultimate display. The glass doors feature tilt-out shelves to display collectibles and keepsakes. Its corner placement provides ample room for displaying items while freeing up additional space in a room. This cabinet comes in both cherry and walnut to give a timeless look.
All of these cabinets and more can be found here on the site, and for your convenience the full Good & Gracious collection can also be found on Amazon . Each of our cabinets is unique and built to allow your prized possessions to shine. By creating different cabinets, we have something for everyone at our store. Check out our mentioned cabinets and all of our other amazing furniture options!